About
Hidalgo Falls is located west of Navasota, Texas and has been a home for paddlers since the early 1990's. By purchasing land at this rare spot on the Brazos River, the Texas River Protection Association created a place for paddlers to enjoy camping, beauty and access to a great place to play and practice moving water and whitewater skills.
The Hidalgo Falls Texas River Festival is an annual event for instruction, information, fun and socializing. It will feature clinics, guided paddle trips, and an outdoor movie.
Registration
Camping
Restricted access property. Members must use gate code to enter. Visitors call or text (713) 828-7582. Gate must be re-locked upon each entry or exit. All vehicles must be registered. Unregistered vehicles will be considered trespassing and at risk of being towed.
Tent camping is permitted and encouraged October 8-9. One night of camping is included in admission (two nights if a TRPA member). Additional nights can be purchased in Registration. Tent or RV camp in the shady campground with access to picnic tables, electricity, water and restrooms with showers. There is a small covered pavilion that fits 2 picnic tables that can be reserved as well. If you intend to bring an RV, call or text (713) 828-7582 in advance. There is limited electrical (20 amp) and water hookups. No 30 amp outlets. Bring extension cord.
There are limited showers and bathrooms. It is recommended that you provide your own toiletries, toilet paper, and disinfectant.
There will be a food vendor for Saturday breakfast, lunch and dinner, and Sunday breakfast and lunch.
We still strongly encourage social distancing and suggest masks and keeping tents and dining areas a good distance from each other. Disinfection and hand washing is strongly encouraged.
Classes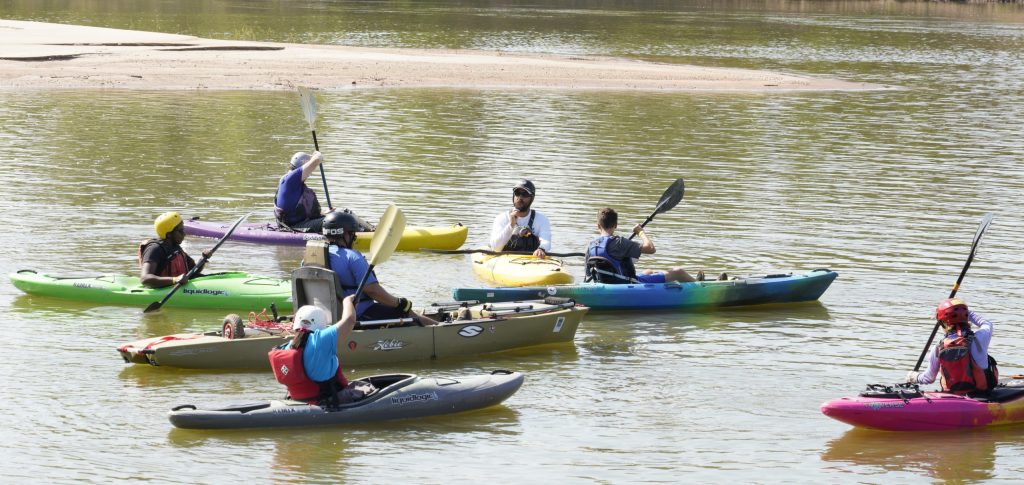 Land-based classes are offered free with $40 festival registration.
Level 1 or Basic Strokes & Manuevers is purchased separately at $40, as is Basic Rescues. If you want or need the Level 1 ACA certificate, please purchase the Basic Package at $120.
River Strokes and Manuevers is $45. River Rescues is $45. If you want or need the Level 2 ACA certificate, please purchase Level 2 River Kayak Package at $130. As a bonus, the 4 mile Brazos River trip is built into this river package!
There are lots of possibilities! Please text or call Patti Carothers if you need help before you pay for classes. 713-828-7582
River Day Trips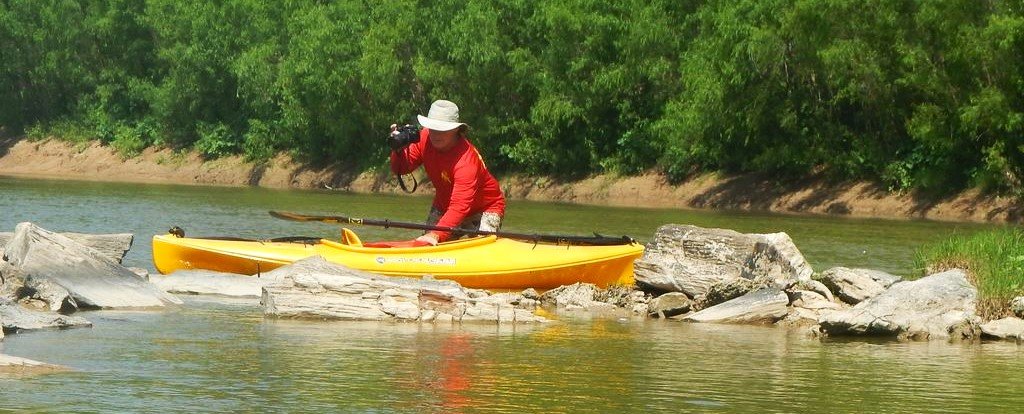 Brazos River Hidalgo Falls to Hwy. 105 – Saturday & Sunday 9 am-12 pm and 2 pm – 5 pm
Fairly easy paddle or float down the Brazos River. Starts below the main Falls and takes out at the new Hwy-105 bridge. Approx. 2 hr. moving water paddle with Class 1 waves at the beginning of the paddle. Steep take out at 105 can be a little challenging but there will be help and a shuttle waiting. Be sure to wear sunscreen, bring & drink plenty of water and wear closed-toe shoes that stay on your feet in mud.
Brazos River Trip from SH-21 to FM-60 (16 miles) – Sunday 8 am-4 pm
W/ Bruce Bodson, Lower Brazos River Keeper
A nice part of the river that has good current and goes past a petrified logjam. This is one of the most interesting sections of the lower Brazos due to the fossil-bearing strata intersected. The launch and take-out are moderately difficult. There are a few bumpy sections, but nothing that would qualify as a real rapid.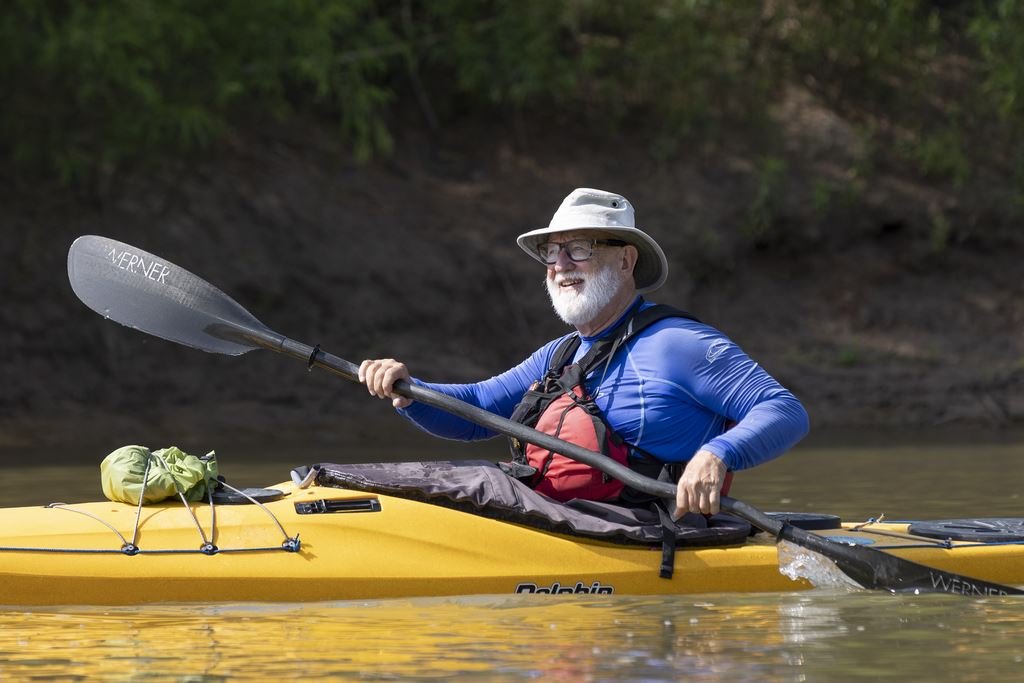 Navasota River Hwy-6 to Hwy-105 – Sunday 8 am – 3pm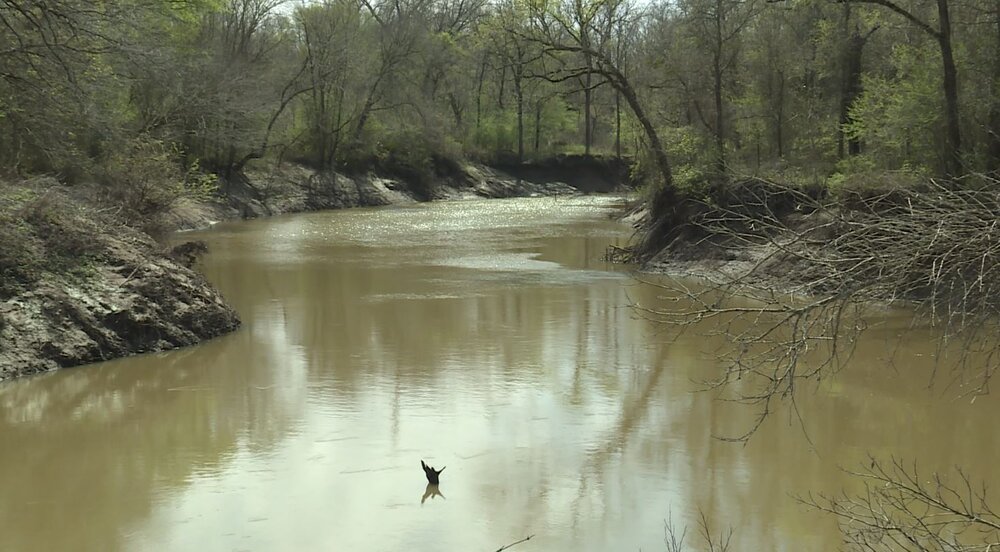 Intermediate Paddle down the Navasota River from Hwy-6 to the new Hwy-105 bridge. This almost 8-mile paddle takes approximately 4-5 hours and involves many turns and some moving water to navigate. Beautiful scenery and wildlife make this trip fun and enjoyable. Soled shoes, sunscreen, minimum 2 quarts of water, snacks and lunch are highly suggested.
Sell or Buy Used Gear or Boats
Bring your used gear or boats to trade or sell. You will need to put your name, phone number and price you would like to sell/or trade it for on your gear. We will supply a place. Looking for a different boat, sprayskirt, or splash jacket? Stop by and see what is for sale.